Booklets and Talks
Three booklets are available by post, price includes postage within Mainland UK. Postage abroad - details on request.
Send your details & cheque to:- R.Holladay, Higher Mill House, Clifford Street, Chudleigh. TQ13 0LH or
Pay by PayPal to goldenhammerman@gmail.com Add a reference to the booklet/s you want.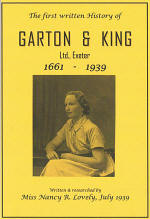 The HISTORY OF GARTON & KING 1661 – 1939
By Nancy R. Lovely.
A basic 28 page A5 Booklet with 8 full page greyscale illustrations. Cover detail may vary. The first written History of the Company prepared by Nancy Lovely prior to her marriage to Henry Holladay in 1939 and never before put into print.
PRICE including UK 2nd Class Mainland Postage ……£5.00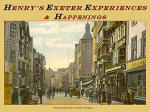 HENRY'S EXETER EXPERIENCES & HAPPENINGS
A 44 page A6 Booklet with 20 illustrations. Personal Memories by Henry Holladay 1912 – 2007. Personal recollections that have been taken from his notes that relate to the period 1914 up until just after the Exeter Blitz in May 1942. Of particular Interest to those with Exeter connections or interested in the social history and way of life in Exeter during that period.
PRICE including UK 2nd Class Mainland Postage……£6.00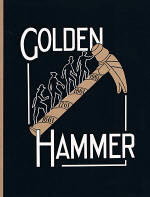 GOLDEN HAMMER
A professional re-print of the privately circulated Golden Hammer that was printed in 1961 to commemorate the 300th Anniversary of the Company.
This A5 edition has been updated with 2 additional Chapters that were written by my father and take the reader up to 1990 when the Holladay family ceased to be involved in the business that remained. Additional illustrations have been included, some images in colour
PRICE including UK 2nd Class Mainland Postage ……£8.00
Talks and Presentations
If you live fairly local to me (Chudleigh) and belong to a Club or Social Group, I am equipped to give Illustrated Talks on G & K Ltd's History and many other local subjects (see below).

Your Venue must be within 25 miles radius of Chudleigh (TQ13 0LH).
Current Charge (May 2022) - £45
I bring Projector, Lectern, Laptop and (if required) a Screen.
Bookings often available at short notice.
To Book: 01626 852512 or Email:

My Talks and Presentations
Currently available:
History of Garton & King Ltd
Red Bus Services (East Devon)
Charles Newton Lovely & the
Exeter Workmens' Dwellings Company
60+ Years Living in Spicer Road
Henry S. Eland - Bookseller, Newsagents,
Stationers & Art Gallery
Exeter Retailing 1880-1940
City of Exeter Sightseeing Tour

Top of Page
Updated May 2022
See also:
About Me — High Street
Golden Hammer — 1939 Notes
1935 Film — A Two Way Traffic
Sitemap / Contents