Was 1900 a good year?
I am often asked how profitable the business was, and of course it's an almost impossible question to answer. With over three hundred years of trading history there were times of stagnation, prosperity and decline. Financial losses through fires and inadequate insurance coverage, outside influences such as the 1st World War caused the business to struggle as did the effect of the Local Government Act of 1972 coupled with the need to modernise within the Tan Lane premises. The Victorian times however were generally a period of increased trade, profitability and expansion brought about particularly with the introduction of new foundry practices that resulted in a great saving of time, labour and cost. The Company benefitted from having participated in the Great Exhibition (and subsequent exhibitions) and the Company were noted for their wrought-iron work. The unexpected death of John Gould King in 1900 however caused the company problems as Hugo Holladay's skills were notable in the field of Ironmongery (he had taken up his post as a partner in the business barely two years previously) but much lacking in the engineering and foundry side of the business - an area that John Gould King had great experience in.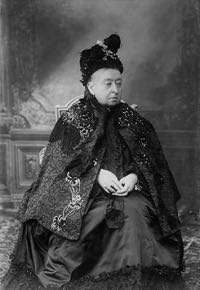 1900 therefore was what one might describe as a 'difficult year' - Exeter's population then was about 46,500. However it is a year about which much is known as ledgers and paperwork survive. A New Catalogue came out in 1900. The Stove Sales Book covers this year. Hugo Holladay's Private Ledger survives and it is from there we can glean some interesting, sometimes amusing, detail about the Company in the last complete year of Queen Victoria's reign but as can be seen at the end of this chapter, there were lean times looming and even though Mafeking had been relieved financial relief for Garton & King had not yet arrived.
It is not intended that this website page is an Accountant's version of heaven but I have plucked out quite an amount of detail from this Private Ledger and have included a few images of the pages. The handwriting contained in this ledger gives fine examples of the art, a skill that is probably in decline nowadays.
It was during 1900 that John Gould King died. With the change of the original partnership, now passing to Mrs King, it became necessary that the business to be valued with the change in the Partnership - Hugo Holladay, had but two years earlier entered into a partnership£ with John Gould King and had already sought finance from within his greater family and elsewhere to buy into the company as an equal partner and was repaying capital and interest on the loans.
Some of the names of the Banking Firms involved with the business include, Sanders & Co, Prescotts Limited, Bankers, Union of London & Smiths Bank Limited - not a hint of TSB, HSBC or Nat West!
I have reproduced below (right) the handwritten Valuation for 1900, the Assets and Liabilities for this period, 11 August 1900 - 30th September 1901 as well as the 1901 Balance Sheet.
On the 11th August 1900 the value of the Stock in Trade, Fixtures, Plant etc was independently valued as follows:- Sorry - we're in Pounds Shillings and Pence from now on!
Ironmongery £3954.5.0d
Iron Foundry £2909.7.0d
On the 11th August 1900 the value of Plant, Fixtures, Loose Tools and Utensils was independently valued as follows:-
Ironmongery £264.10.0d
Iron Foundry £1417.3.8d (including a Smith's Bellows and a Gas Engine)
Purchases for the period August 1900 - September 1901 for the Ironmongery Shop some £4199.7.2d and the Foundry £1087.5.10d
The cost of Coal, Coke and Sand for the same period amounted to £63.5.3d
"Horsekeep" amounted to, for the same period, £84.4.5d The 11th August Valuation mentions horses, harness & carts but not how many!
Under the heading of "Rent, Rates, Taxes and Insurance" for this same period are payments to Vulcan Boiler Insurance and Commercial Union Accident Insurance (£11.0.0d per annum). Equitable Insurance Company provided the Employers' Liability Insurance. The premium to the West of England Insurance Company for cover on premises (I believe) came to £9.0.0d per annum.
Electric Light, Gas and Water August 1900 - September 1901 came to £51.11.5d - Gas accounting for about £19.15.0d of this amount.
Wages - The Partners Salaries (Hugo and Edgar Holladay) came to £114.0.0d each for this period.
Assistants and Clerks wages accounted for £985.12.9d whereas Foundry wages amounted to £1522.6.9d but no mention of numbers of staff in either department.
The information given is tantalising as in areas it lacks detail. The financial state of the business in terms of profit/loss teeters over the next few years, 1902 a loss of £328, 1903 a profit of £520, 1904 a profit of £133.
So, with the benefit of hindsight we can shed light on this era and say that 1900 into 1901 was not a profitable period and indeed the immediate post Victorian decade was something of a struggle for the company but information and financial detail for the subsequent decades is lost so there is no detail on the profitability of the Company. We do know that post WW1 and the end of the preceding dreary four years of war that there was such a significant build up of business, so much so that in 1924 Hugo and Edgar decided to consolidate on their achievement and a Limited Company was formed. Edgar was able to expand the shrunken foundry output and in spite of the decline in demand for grates and ranges the new Gas Cookers required much in the way of cast iron and contracts were sought for municipal and builders' castings with a leaning to repetition work that could be produced from pattern plates and moulding machines.
August 2021
Top of page
See also:
1900 - A year under scrutiny — A Two Way Traffic
Banking, Payment & Tokens — The Stationery Cupboard
Sitemap / Contents