Three Men in a Boat

What product could the company possibly produce that would end up with three men in a boat (don't forget the photographer) swanning around on the Thames near Reading?
Well, the answer is Sluice Gates!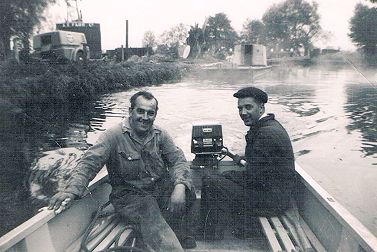 The three black & white images on this page were passed to me by Mike Bendall. He joined the Company in 1959 as an apprentice, overseen by Pat Rodgers the Machine Shop Foreman at that time. He was the only apprentice amongst 12 fitters, the bottom of the pile as one might say. He recalls a Cyril Randall who looked after the diesel engine that, according to him, powered the large generator that powered most of the lights in the Factory. Amongst those he worked with he recalls were Frank Rice (the wise old man!) John Heard, Pat Smart and Harold Williams – there's a picture of Harold on the Wheels & Gears page.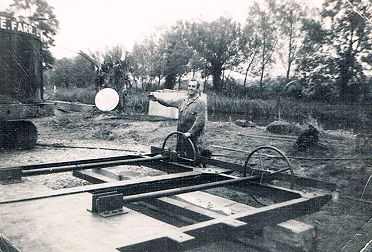 Mike's father also had a connection with Garton & King, he was the Manager of W.V. Cole & Sons the Printers in Exeter who printed the original Golden Hammer book that commemorated the Company's 300th Anniversary in 1961. Mike states that he assisted in the welding and manufacture of these sluice gates which were taken by G & K's regular driver, Charlie Orchard (seen on the left in the top picture), together with Mike in the Eastmonds lorry to the Reading area where they were unloaded and transferred to a barge and then transported a few miles up river.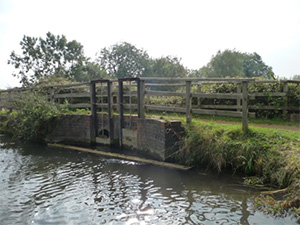 The colour image is of Colthrop Sluice. This sluice is a considerable distance to the west of Reading on the Kennett & Avon Canal; the design is very similar to those the Company installed except that this location comprises two single sluices and not a double as shown in the second black & white image on this page but it gives an idea as to the look of these fabrications when installed.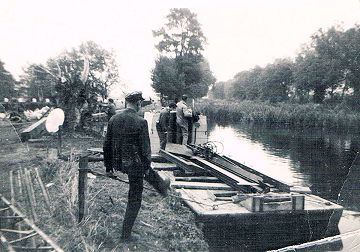 Quite where in the Reading Area the sluices were unloaded and where they were taken to by barge is yet to be discovered.
Sluice Gates (Penstocks) - another product the Company made to order.
May 2020.
May 2020
Top of Page
See also:
Transport — Products
A Little Bit Unusual — Mixed Bag
Sitemap / Contents