Cast Iron Cover
An article originally published in 'Right to Ride', 23rd August 2013...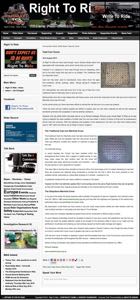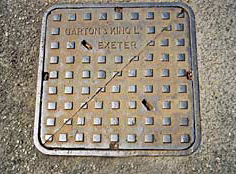 At Right To Ride we have read through 'many' diverse articles about and associated with motorcycles, some which would drive you to drink!
However it is a pleasure to have read through such an interesting, short and to the point article that was sent to us entitled "The Traditional Cast Iron Manhole Cover".
Cast Iron has been used to manufacture many items down the ages from cookware, stoves, gratings, gates, railings, palings to bridges and much more.
For motorcyclists, the most well know form of the use of Cast Iron is the traditional Cast Iron Manhole cover or service cover.
Motorcyclists have had a hate relationship with these covers, ever since the motorcycle hit the road (pun) and a Cast Iron Manhole cover was first used.
As the article points out, there have been efforts to combat the risk that worn out covers can present.
There has been anti-slip material applied and efforts to replace cast iron with other materials as well as skid resistance standards amended with acceptable in-service skid/slip resistance.
However, onto the article which has been sent to us by Richard Holladay. Richard came across Right To Ride as he was trying to establish the wear qualities of ductile Cast Iron and has written a history of Garton & King and its predecessors whose Cast Iron products, "litter the highways and byeways of the westcountry" and who can trace their trading history back to 1661 within the historic city of Exeter in Devon, England.
The Traditional Cast Iron Manhole Cover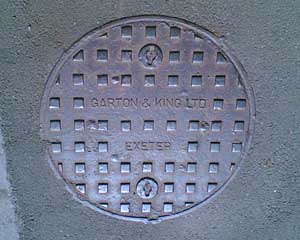 The traditional Cast Iron Manhole cover has been around since the early 1900s and over the decades Cast Iron has proven to be the most cost effective, durable and resiliant of materials to apply to this use.
It is extremely strong.
In recent decades the "recipe" has been tweaked which has strengthened them further with a degree of weight saving. In very busy urban areas the 'grip' surface cast into the cover will eventually wear away, becoming smoother and smoother – over a 30 year period or more, dependant on location.
This does little to diminish their strength but the term Worn Out would apply and it is indeed interesting to see that there are products and methods being introduced to combat the risk that a Worn Out cover presents to any wheeled vehicle, particularly to, presumably anybody on 2 wheels – powered or not.
In pedestrian locations this can mean a lifetime in excess of 100 years!
However the Worn Out definition applies ONLY to the surface and to the canny Road Authority they can be ignored as they still maintain their original purpose and strength is not compromised by the worn surface.
The Ubiquitous Manhole Cover
In my part of the world, the family business cast hundreds of thousands of cast iron inspection and manhole covers from the 1900 to 1980 (www.exeterfoundry.org.uk) and they litter the highways and byeways of the westcountry, particularly Devon and specifically the Exeter Area.
My observation is that there are more covers in city and urban areas (where utilities are often directly under the road surface) and less in rural areas and even less on Trunk Routes.
Urban areas are inevitably regulated by speed limits and the introduction of 20mph areas is prolific.
I'm sure Highway Authorities should be harassed to attend to very worn covers (we pedestrians can slip too you know!) but surely far greater attention needs to be brought to the atrocious state of many of our roads and the proliferation of potholes and breaking up road surfaces caused by frost & water damage and neglect.
The ubiquitous manhole cover when worn however does present a hazard it seems, even though the area of tread on a tyre in contact with a worn cover is greater than that on one that isn't?!
Until the worn cover is treated or replaced it seems that the wheeled road user in the 21st century must continue to do what his predecessor did throughout the 20th century – beware and be aware.
(Garton & King Ltd (Exeter) had ceased foundry operations and Manhole Cover production by 1980.)
Richard Holladay
www.exeterfoundry.org.uk
See also:
Municipal Castings — Products
Transport — Gummed Up Gullies
Sitemap / Contents