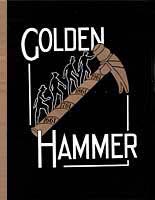 New Pages

a history
Heating Equipment
Heating was another sphere into which Garton & Jarvis and Garton & King ventured and some interesting schemes for heating melon pits and greenhouses were designed and they were involved in the heating of the Tropical House in Kew Gardens. Further research on the heating system installed at Kew is currently being undertaken.
Many churches and institutes, schools and large private houses, like Knightshayes Court near Tiverton and more recently Exeter's Heavitree Road Police Station, have been heated by G & K designed and installed systems; coke and coal in the early days, then Gas and Oil Fired. Some interesting photographs and drawings of systems and boilers are to be seen in this section and cannot but admire some of the skill and care that has gone into some of these plans and drawings.
Garton & King were South West Agents for the Manufacturers of the Gurney Stove. Exeter Cathedral boasted Gurney Stoves (see picture) as did many Cathedrals – some were even converted to Gas or Oil Fired.
Sir Goldsworthy Gurney 1793 – 1875 was born in Padstow and by the age of 20 he was a practising Surgeon; however he moved to London in 1820 and although he spent over 40 years in research and experiment he never quite made his fame and fortune and is not given the recognition he deserved.
The Gurney stove improved upon the existing coke fired stoves, it had 24 cast iron fins around its cylindrical perimeter and it rested in a trough of water which evaporated with the heat thus moistening as well as transmitting heat and the fins increased the heated area and the favourable result lead to its popularity in schools, halls, countless churches and many of our large Cathedrals.He lived the latter years of his life at Poughill near Bude. Bude Visitor Centre have an excellent section on Sir Goldworthy Gurney.
In 1896 Garton & King designed and produced their own Radiator – called somewhat logically the "1896 Radiator" – their name is cast into the metal - so – if you see one somewhere, perhaps in a large private house or in a National Trust property, please let me know – and don't forget – PHOTOGRAPH IT as they are an endangered species!
Garton & King was not all gullies gratings gears and manhole covers. These two images were taken this April in the St Anthony's Chapel at Cowley near Exeter and show that the Company were very much into various forms and systems of Heating. St Anthony's Heating System dates from probably the middle to late 1800s and this type of radiator is particularly scarce nowadays. Another interesting discovery of a G & K of about the same era can be seen at Christ Church Bridgewater There is a full write up on this Bridgwater (Somerset) Unitarian Church's System on their Website.St Anthony's Chapel has now been deconsecrated and is cuirrently up For Sale. Who knows the fate of the building and its historic Heating System.
Drawing of a Steam or Hot Water Radiator. Particularly attractive drawing but unfortunately lacking much information. The Rubber Stamp (see section on Rubber Stamps) only confirns that it is pre 1924. There were many Radiator Companies around in the late 1800s, one in particular was the American Radiator Company. Their Trade Mark was a four leafed Clover with the word 'Ideal' written across it. Their September 1904 catalogue lists over 30 different types including hinged and and curved types. By 1919 they appear to have changed their name to The National Radiator Company.
The Exon Radiator
The Exon Radiator appears to be a replacement for the 1896 Radiator. Perhaps the powers that be realised that calling the Radiator the 1896 meant that by 1897 it was out of date! The publicity attached stated:  "This radiator, constructed of any number of separate loops, is perfectly connected without bolts and every one is severely tested under Hydraulic and Steam Pressure before leaving our Works"
The School Grate
A Slow Combustion Stove. The Sales Description gives the full Low Down on this design and stresses the combustion is very slow and the consumption most economical – the appliance projects into the room and warms a given space by the distribution of warm air in addition to the heat radiated from the fire – perhaps little Jimmy's hands will get warmer, the ink de – frost and his writing, as a result, will improve considerably through the use of this frugal appliance.
A School Grate sales description - click to enlarge
Tortoise stoves & prices. Again from the 1848 notebook of J. Garton Jnr - click to enlarge
John Garton Junior's 1848 Price Book was absolutely crammed with facts figures, illustrations, notes and manufacturers leaflets. Here we see examples of (bottom right) various designs of Gas Stoves by T. Philips of ornate design. click to enlarge
The Gurney Stove.
This is one of Exeter Cathedral's Gurney Stoves taken some while back – Garton & King converted one or more of these stoves to either oil or gas fired.
A close up of the Gurney Stove at Bude Visitor Centre (My thanks to them for allowing me to photograph it).
The Wash House, King Street, Exeter.
The diagram shows that the Womens Bath area is divided into First Class and Second Class. Oddly the colours for the pipework were Blue for the Hot, Red for the Cold Water System and Yellow for the Steam. The Exeter Bath & Laundries was opened in 1852. click to enlarge plan
Exeter Guildhall.
This undated but very detailed plan of Exeter Guildhall's heating system unfortunately shows almost nothing that can be seen today although the modern Gas fuelled boiler is located in the Boiler Room shown on the plan. click to enlarge plan
Styles of Advertising have changed a great deal since this Flyer was produced – Imaginative use of fonts and artwork. The names of the different models of Oil Stoves are somewhat amusing. click to enlarge plan
A drawing of a boiler – a written description does not show the care and attention given to a product by the company's draughtsmen. click to enlarge plan
The Boiler Room
A Garton & King Archive Picture of a pair of large boilers that were installed in the Boiler House at the old Royal Devon & Exeter Hospital in Southernhay. The Inscriptions on the pipework above them and below the Valve Wheels reads: 'Return Distribution Box, and Halford, Bowring, Halford, Cold Feed and Chapel'