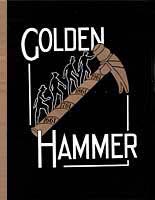 New Pages

a history
A Monumental Offering
There are two objects (I hope I discover more) that exist in Devon that are prominent features in their respective communities - it is possible there are others beyond Devon's borders.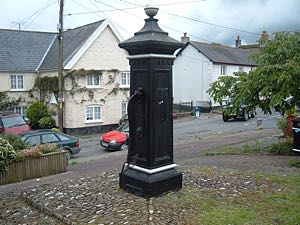 CHITTLEHAMPTON is a small village about 8 miles south east of Barnstaple and to the north east of Umberleigh. The principal feature of its large Main Square is the Decorative Water Pump on the South side.
This Pump was manufactured in the days of Garton & Jarvis - a surviving manufacturers plate, there were originally two, states 'Garton & Jarvis, Manufrs, Exeter'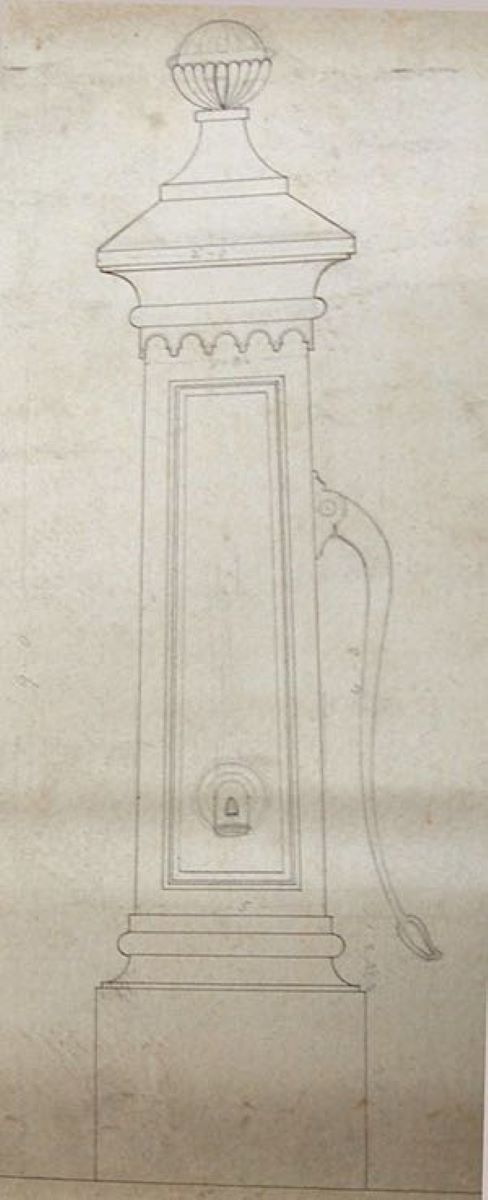 There is no date, even from the drawing that exists in the archives, so one cannot date it precisely but Garton and Jarvis was formed in around 1836 and became Garton & King in 1865. An article in the Village Newsletter may hopefully discover the reason why the Pump was commissioned and when and this information will be added later to this page.
Externally the Pump is in good condition but I doubt if it is operational. One of the name plates has doubtless been stolen - they don't just 'drop off!'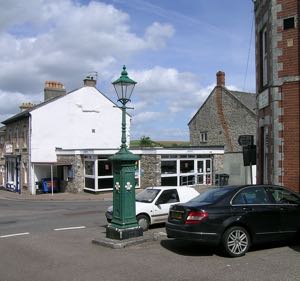 COLYTON in East Devon, a Devon mile north of Colyford and the A3052 boasts a fine Ornamental Fountain and Lamp located at the junction of Market Place, South Street, Queen Street and South Square. It was probably ordered and installed in the very early days of Garton & King (1865 onwards) though the monies for it were raised in March 1863 in the era of Garton & Jarvis so there's a degree of fluidity as to its precise date.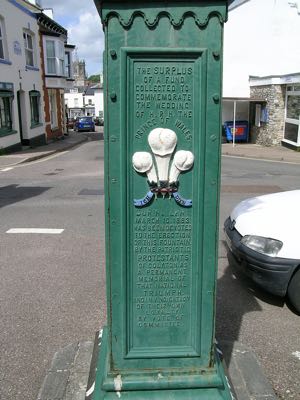 The lamp on top appears not to be part and parcel of the original fountain as it is secured in place by four straps and to my eyes looks somewhat unwieldy - I hope the lamp still works - perhaps some Colyton Resident will let me know, it's a shame the Fountain Portion doesn't. Should we blame South West Water for this I wonder - it seems that few operational Fountains, Village Pumps or even Horse Troughs survive in working order - certainly none of Exeter's Horse troughs do.

HELE PAPER MILL.The final Monument is again a Water Feature but unfortunately no longer exists but there are doubtless some that will remember it, perhaps a photograph of the Mill Entrance exists which may include it? Compilation drawing/photo courtsey of Warwick Knowles, Bradninch.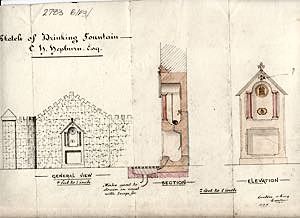 Here is a drawing from the archives.
It was erected by C Hepburn Esquire, of Dunmore House, Bradninch and onetime owner of Hele Paper Mill, possibly in 1888 and maybe to commemorate the death of H T Hepburn of that same year. The mock up image shows its probable location. It was removed in the 1960s - perhaps it ended up as a water feature in someone's garden - many a true word is spoken in jest - if it still exists I'd love to know as it obviously was a work of art as well as serving a useful purpose.