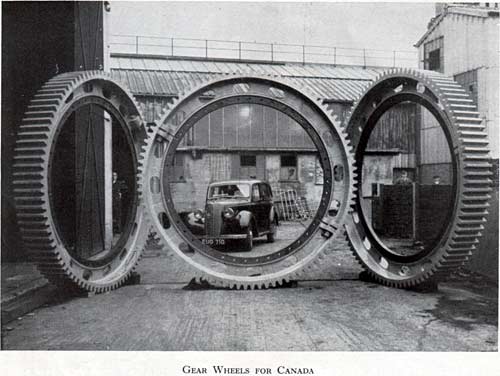 Chapter 9
300 Years of Business
HERE was a further advance for the Golden Hammer. In the new premises, where the two companies flourished under one roof and one management, there were better facilities for building up their post-war trade. The family hailed with thankfulness the safe return of Alec Hugo Holladay, and the latter turned his attention to the revival of the business in connection with domestic appliances. His success in this respect recalled his namesake's able reorganisation of the High Street shop nearly fifty years before.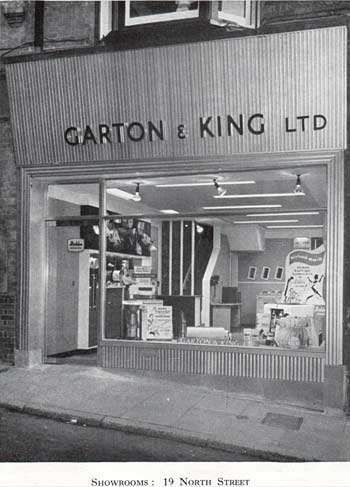 When his brother had thus taken a part of the burden, Henry Holladay was able to concentrate on general management and on the engineering side of the business. There followed a period of unremitting effort-continuous steady teamwork by executives and workers, from director to apprentice, from head clerk to tea maker. Year after year the market for the firm's goods and services expanded, with a gratifying reception by the public, so that it became necessary to make further extensions to the buildings and plant.
A slight check occurred in 1957, when the lease of the Central Station showroom terminated, without possibility of renewal. By a curious turn of Fate, some property became available at 19 North Street, only a stone's throw from the site that first saw the Golden Hammer, and in 1958 extensive modern showrooms were opened on the newly-acquired premises.
Did the shade of John Atken hover around the entrance : Three hundred years before, he had begun the firm's long service to the citizens of Exeter, and here he might have seen his modern successors carrying on the same trades. The worthy John had tempted the citizens with alluring displays of toasters, fire-irons, spits, and iron crocks, but in the new showrooms were the most up-to-date domestic appliances and examples of domestic engineering. Here were top quality cookers, washing machines, and refrigerators, with super-efficient heating devices using oil, gas, solid fuel, or electricity. John Atken had purveyed candlesticks, harness fittings, and he founded now sends out a stream of castings for numerous carriage metalwork, but the firm industries and purposes. Airports, motorways s, atomic power stations-all are served by the Golden Hammer.
The original Hammer still hangs outside the head office, at the foundry in Tan Lane, and a replica in cast aluminium is displayed over the showrooms at 19 North Street. Beneath that familiar symbol, the new generation looks to the future with confidence. Three centuries of service to the public give solid foundations for tradition and a sense of continuity. In this family enterprise, each generation will surely produce successors to serve with loyalty the sign of the GOLDEN HAMMER.
[Note: Golden Hammer as published in 1961 finishes at this point. A further two Chapters have been added as Postscripts to complete the story. These are included here and in the currently available printed version (see Booklets).]
Next: Chapter 10
Top of Page
See also:
Wheels & Gears — AGA — Taylor & Bodley
The Golden Hammer Sign
Sitemap / Contents